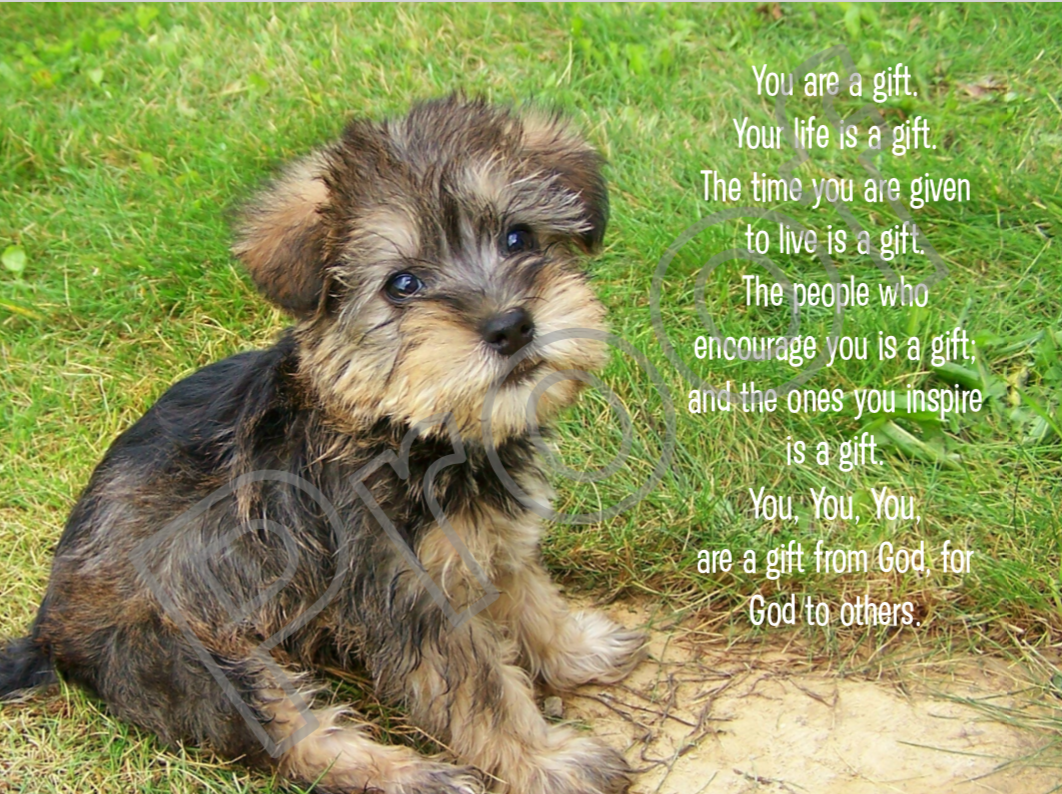 (Feb. 2021) A customer came in for the very first time with her sister visiting from Texas. We were actually already closed for the day; lights off, doors locked. As my husband was approaching the main door to get our sign from the sidewalk, two women about to come into the main lobby asked if we were closing. My husband responded, "Yes, but we will open so you can come in." I re-opened the gift shop and turned on some music. Nothing like shopping with beautiful music.

They walked around asking questions and commenting as they took in the photography and inspirational gifts.

Within the 30 minutes of their visit, I had learned from one of them that she was going through a tough time and heavy-hearted due to her pet of 12-years was going through some serious health issues and not sure what would happen. We talked a little more and tried to give some comfort. They continued walking around and found various items to bless others. After they checked out and as they were leaving, the other woman turned around and said, "This place has given me so much peace!"

As you would imagine, my husband and I were delighted to hear such feedback, and I responded, "Purpose served!" And she said, "Yes, mission accomplished!"

Her sister said, "I'm going back to Texas, and I'm going to share this place and your website with my church so they can support what you do. This is a wonderful place!"
Whether it's a person or a pet who suffers, we can all understand the importance to comfort in every situation.

Father, thank You for the honor and privilege to hear other's stories and serve in this manner to comfort, bring hope, and inspire!

If you believe and want to lend support, will you let your family and friends know about us?

Thank you!
**To order encouragement card click here:
Puppy

(February 2021) Wonderful story and rich affirmation! When I design and create encouragement cards using my photography, I've made it a habit to ask God to direct my thoughts. I want to be inspired by God, to inspire others with what is designed and written. Just last week my daughter put the —Blessings Packets— together and quite a few of them have already been sold. The feedback I'm receiving is humbling... God truly blesses His work. Here is one of the many blessings received from designing this packet: The first photo in this packet has the Greek word zoe on the front. The Bible uses this word in reference to a life in Christ, which means a life rich in quality and vitally lived out. It is also used as a person's name. I have the words Zoe — Life printed on a photo I took in Port Washington with a beautiful sunset. Today a young mother with her young daughter; (guessing about four or five years old) came into the gift shop. As they walked around the young girl looked at some photos I had displayed and she asked, "Are all those yours?" I replied, "Yes!" She said, "Those are beautiful!", which warmed my heart. Nothing like a child who appreciates what you do. As they continued to walk around they came across the —Blessings Packets— I heard some excitement when they came across the photo that has 'Zoe — Life' written on the front. Long story short... the young girl's name is Zoe and she lives in Port Washington! Such a wonderful confirmation of how God delights to use our giftedness! One of the many reasons He inspired me to create this card was to bless a five-year-old precious little girl whose name is Zoe, and who would soon be coming in with her mother and become inspired. On the back of the card I have written Psalm 20:4, "May God grant you according to your heart's desire, and fulfill all your purpose." Zoe said, "I'm going to put them in my special place." Thank you, Lord!! You're Amazing!
(See complete set here...)
PERFECT TIMING GIFT SHOP

111 N. MAIN STREET
WEST BEND, WI 53095
QUESTIONS? CONTACT US BELOW. THANK YOU